Florida Prison Ministries—20 Years of Changing Lives for God
This article originally appeared in the Autumn 2009 issue of Florida Focus, published by the Florida Conference Communication Department and written by Gladys Neigel, editorial assistant.
Not by might, nor by power, but by my spirit, saith the Lord of Hosts.

~Zechariah 4:6
Maxine and Frank Barton have led the Florida Prison Ministries program since it began in 1989. (Photo by Cindy Kurtzhals)
"I tried to trick the Lord," admits Frank Barton as he recalls starting his quest to find a way to reach the downtrodden and the hurting with the message of a loving God. "I got on my knees and prayed, 'If You Lead I will follow.'
"Even while praying, I knew I was not going to invite myself anywhere. 'If the phone rings and I know the Holy Spirit is calling, then I'll go.' Yet, I didn't expect any calls. 'Who knows Frank Barton?'"
Circa 1992—Members of the original Prison Ministries Advisory Board, from left: Frank Barton, Chaplain and Board Chairman; Richard Shepard, Conference Adult Ministries Director; Bill Bower, lay representative; Richard O'Ffill, Conference Personal Ministries Director; Relious Walden, Conference Treasurer; Eugene Torres, Clermont Pastor; Betty Bower, lay representative. (Photo provided by the Bartons)
Someone suggested that Frank get involved in prison ministry. At first, Frank didn't feel the burden since he was never incarcerated. However, after he and Maxine, his wife, visited a prison, and then went to Alabama to meet with Richard Bland and the United Prison Ministries International (UPMI) team, they felt led to work with prison ministry. "As we were praying and fasting," says Frank, "the Lord told me to quit my job and go to work full time for Him."
When God called, Frank left his 30-year job in the aerospace industry where he supervised hundreds of employees and budgeted millions of dollars. He thought he would go into the prisons and, perhaps, do a little something with Bible studies; however, the Lord knew Frank's background and his abilities. It soon became apparent the Lord wanted him to use his talents in the creation of a program to train others in prison ministry.
Circa 1992—Florida Living Retirement Community residents Edna Buerger, left, Olan Layton, and Emma Seeberger correct prisoners' Bible lessons. (Photo provided by the Bartons)
Twenty years later, Frank and Maxine can hardly remember waiting for an invitation. Their dedication to training others for prison work has resulted in invitations that have taken them back and forth across North America.
"God has given Frank an unusual gift for prison ministry which is his training program," says Richard Bland, Founder/President of UPMI. Under this organization's umbrella, Frank began an independent ministry in Florida. Malcolm Gordon, then Conference President, and Hazel, his wife, made arrangements in 1989 for Frank and Maxine to kick off the prison ministries program in Jacksonville, Orlando, Tampa, and Miami.
Circa 1996—Women from Lowell Correctional Institution, a reception center north of Ocala for female offenders, attend a Prison Ministries revival. (Photo provided by the Bartons)
Two and a half years later, Obed Graham, the next Florida Conference President, suggested "anything this good ought to be blessed by the Conference," and prison ministries was officially adopted as a volunteer-run outreach. Frank agreed to be the Chaplain of Prison Ministries for Florida Conference, as long as he could also work with the Southeastern Conference. This relationship continues today with prison ministries volunteers coming from both conferences.
In the early days of the ministry, Frank was impressed to invite other entities on board that would benefit the program including:
American Bible Society—This organization subsidizes the Bibles given to inmates.
Florida Living Retirement Community—Residents correct the Bible lessons.
"I just had my nose to the grindstone," explains Frank, "Then, I woke up and realized this ministry God placed in our hands was bigger than I imagined. Maxine and I couldn't handle the hundreds of letters coming in by ourselves, so we recruited volunteers to help."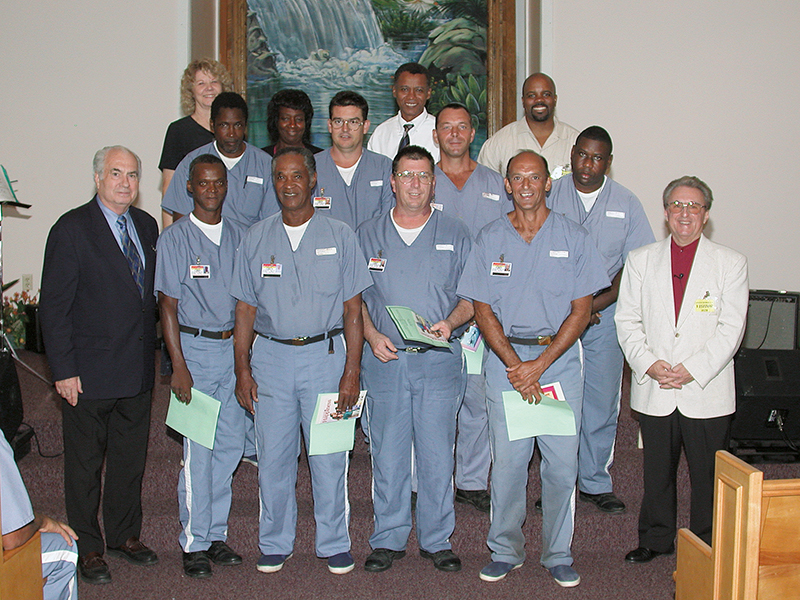 Circa 2000—Frank Barton, left, pictured with Prison Ministry volunteers from Ft. Pierce Church, back row, Brooksville Pastor Don Johnson, right, and newly baptized inmates at Okeechobee Correctional Institution. (Photo provided by the Bartons)
Pen Pal Program
Frank was impressed to start the Regeneration Fellowship pen pal program that provides inmates with spiritual correspondence friends. Pen pal counselors first study the program manual before completing prison ministries training. These anonymous volunteers use a spiritual approach in determining how to best help the inmate.
Regeneration Fellowship News
The Regeneration Fellowship newsletter is sent to more than 2,500 people in the State of Florida every month. Edited by Laura Leach, this newsletter can go into places where prison ministries workers cannot, such as solitary confinement and death row. The 20-page booklet includes spiritual topics, an editorial, Bible trivia, a Bible reading schedule, and a Your Turn page where prisoners can submit items of a spiritual nature for print consideration. The inmates may also send in prayer requests, ask for Bible lessons, ask Bible questions, and/or request subscriptions for other inmates. The response to the newsletter has been overwhelming.
L.A.M.B.
Love A Mother's Baby is a program developed for babies born behind prison walls. Twenty-four hours after birth, a baby is placed with a caretaker who is given a layette for the baby from L.A.M.B. Because mothers often barter in prison for tubes of toothpaste to send to their child on a birthday or for a Christmas gift, the L.A.M.B. program provides a present given in the mother's name. The mother and child also receive Our Little Friend magazine.
Circa 2000—Betty Goines directs the Love A Mother's Baby (L.A.M.B.) program. (Photo by Lynette Struntz)
More than 8,000 children have benefitted from L.A.M.B. under the direction of Betty Goines. One young woman touched by this program more than ten years ago still attends the church where she was befriended as a child.
Shelter from the Storm
Shelter from the Storm is a half-way house located in Ocala. This ministry is a haven that provides temporary housing and services while helping former inmates find employment upon their release from prison. This program is directed by Jeffrey Cobb whose life was changed through the prison ministry program when he was incarcerated.
Inmates such as Ray Shine, who was incarcerated for more than 25 years, have been transformed by this program. Ray is now a deacon in training and a baptized member of the Adventist Church. "God has blessed me tremendously since I was baptized in that water," says Ray. "I came out a different person, and I'm not afraid of the gospel of Jesus Christ. The battle belongs to Him."
20 Years of Growth
In Florida, the ministry that started in eight institutions is now present in more than 100. In addition, the Bartons have traveled throughout North America training prison ministries workers.
Humble servants of the God they serve, Frank and Maxine give Him all the glory for directing their 24/7 volunteer retirement job. They make it clear their work wouldn't be possible without the hundreds of volunteers who enter the prisons once or twice a week, 52 weeks a year.